ZERMA offers for this field a wide range of shredders, granulators and pulverizers.
The Zerma range of granulators and shredders cover virtually all plastic recycling applications; from the slow-speed beside-the-press granulators of the GSL series, the compact soundproofed granulators of the GSC and GST series, most commonly used in injection moulding, blow moulding and extrusion applications, to the large GSH series heavy-duty granulators used in these applications as well as high-throughput operations and demanding post-consumer plastic recycling. The Zerma range of single-shaft shredders are designed to exceed the most demanding applications; the ZBS series is purpose-built for in-house lumps and purgings, the ZSS series for general applications, the ZIS series for large volume parts, and the ZHS+ and ZXS heavy-duty series for high-outputs with a wide variety of demanding materials.

ZERMA has a long history in the design and implementation of size reduction equipment and offers a product portfolio which is as wide as the spectrum of materials that need to be processed. ZERMA granulators in the GSL, GST and GSC series are specially designed for in house recycling applications in line with the production machinery. The regrind can be directly reintroduced into the production process or stored in a central silo. The compact size and low noise emission make these machines ideally suited for in-house scrap.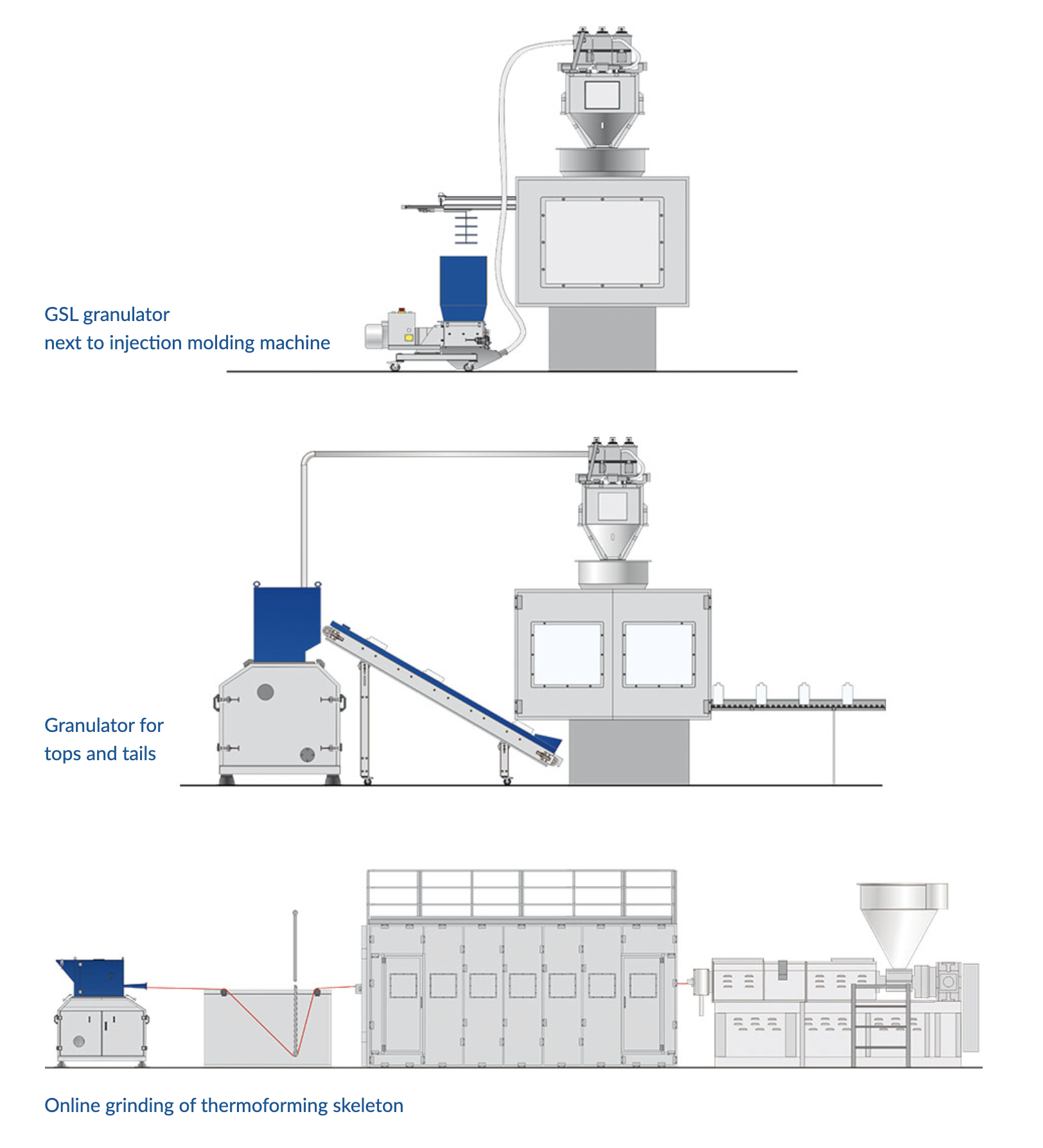 Recycling Of Different Plastic Materials
Granulating and shredding of plastic, such as injection moulded, blow moulded and roto-moulded parts, pipe, profile, sheet, film, lumps and other extruded materials, requires experience and knowledge in size reduction technology. As different as plastics can be, so to is the range of machines designed and built by Zerma. Zerma is ready to provide a customised solution for any task for the shredding, granulating or pulverising of any plastic.
Injection Moulding
PROCESS OVERVIEW:
Injection moulding is used to manufacture many products, such as homeware, containers, bottle caps, automotive dashboards and so on. Injection moulding is the most common method of part manufacturing with the advantage of high production rates, repeatable high tolerances, the ability to use a wide range of materials, low labour cost, minimal scrap losses, and little need to finish parts after moulding. In the process melted plastic is injected into a mould creating the part, and most polymers can be used for injection moulding, most commonly, polyethylene (PE), polypropylene (PP) and Polyvinyl Chloride (PVC).
TYPICAL CHALLENGES IN RECYCLING:
The main challenges in injection moulding are recycling adjacent to the machine and central recycling of reject parts and purges. Due to the large range of materials and additives used, recycling directly at the machine is the most efficient solution. The most common application is the recycling of spurs, runners, and reject product directly at the moulding machine. Here the GSL series slow-speed granulators are an ideal solution. The low rotor speed results in a low noise operation and less dust/fines in the regrind. The unique machine design combines a staggered rotor which is directly driven by a geared motor, creating high torque with low power consumption. The granulated material is then directly reintroduced into the manufacturing process via a material blender or proportional valve.
Another challenge is the granulating of plastic lumps and die/head waste resulting from start-up, colour and material changes. The Zerma ZBS series single-shaft shredders have been specifically developed for this scenario. These shredders are used to shred such material into smaller particles that can be processed further in a smaller, possibly already existing, granulator.
The compact GSC and GSE series granulators can be used as central granulators to process larger reject parts, and additionally the heavy-duty granulators of the GSH series can be used to process a variety of demanding materials, including start up lumps.
Blow Moulding
PROCESS OVERVIEW:
Blow molding also known as blow forming is a manufacturing process by which hollow plastic parts are formed. In general, there are three main types of blow molding: extrusion blow molding, injection blow molding, and stretch blow molding. The blow molding process begins with melting down the plastic and forming it into a parison or preform. The parison is a tube-like piece of plastic with a hole in one end in which compressed air can pass through. The parison is then clamped into a mold and air is pumped into it. The air pressure then pushes the plastic out to match the mold. Once the plastic has cooled and hardened the mold opens up and the part is ejected.
TYPICAL CHALLENGES IN RECYCLING:
Most blow molding is done in the packaging industry for common products such as bottles, barrels and bulk containers for the chemical industry, as well as technical parts such as tables or automotive parts.
Mostly recycling in these industries is done in-house. For small bottles the GSL slow speed granulators are very well suited. bigger bottles and canisters can be processed in the compact soundproofed GSC series, they can be used to recycle PET preforms as well. Larger parts such as barrels, car tanks, tables and so on can be processed with the GSH heavy duty granulator series, which are able to handle the solid top and tail flush as well.
For extremely big volume parts such as IBCs a shredder/granulator combination is commonly used, here the ZIS shredders with their large volume hoppers offer an optimal solution.
Extrusion
PROCESS OVERVIEW:
Pipe and profile extrusion is defined as a process of forcing the polymer melt through a shaping die. The extrudate from the die is sized, cooled and the formed pipe is pulled to the winder or a cut off device. Prior to this, the plastic material in the form of polymer granules is fed into the hopper, conveyed by a rotating screw through a long cylindrical barrel. This is subjected simultaneously to high temperature and pressure, forcing the melt through the die at a predetermined rate. After PVC, PE is the most widely used thermoplastic piping material.
TYPICAL CHALLENGES IN RECYCLING:
The main challenge lies in the length of the extruded products, commonly pipes and profiles are metered off at 6m length. ZERMA offers a solution for for all parts accumulated during extrusion processes.
For thin walled PVC pipe and profiles the GSP pipe and profile granulators provide a single step solution. Due to their low feeding height these granulators are especially well suited for the grinding of long parts such as window profiles or small diameter pipes. Even at lengths of more than 6 m these parts can be fed easily into the almost horizontal hopper.
For pre-cut pipes of medium diameter the granulators in the GSH series are a one step solution, here the machines are equipped with a special pipe hopper ensuring that the pipes are entering the rotor at an optimal angle for best results. Alternatively these pipes can be processed in a two step shredder/granulator combination as well.
The best recycling solution for large diameter pipes and profiles are the ZERMA ZRS shredders specifically designed for this task, in these shredders pipes of up to 1200 mm diameter and 6 m length can be processed safely and efficiently.
To create PVC powder from the ground pipes or profiles the Pulverizers of the PM series can be used.
Rotational Moulding
PROCESS OVERVIEW:
Rotational molding, also known as rotomolding, rotocasting or spin casting, is a molding process for creating many kinds of mostly hollow items. More than 80% of all the material used is from the polyethylene family.
Typical products created in a rotational molding process include large volume water tanks, children playgrounds, barricades and traffic cones. A heated hollow mold is filled with a charge or shot weight of material, it is then slowly rotated causing the softened material to disperse and stick to the walls of the mold. In order to maintain even thickness throughout the part, the mold continues to rotate at all times during the heating phase and to avoid sagging or deformation also during the cooling phase.
TYPICAL CHALLENGES IN RECYCLING:
Due to the large volume of most parts a two stage shredder granulator combination is commonly used when recycling rotomolded products such as water tanks. In this case the ZIS shredders with their increased hopper volume are very well suited. Granulators of the GSH, GSE and GSC series can be used as a single step solution or second stage grinder as well.
The pulverizers of the PM series play a very important role in the rotomolding process.
Firstly they are used to create the necessary powder from the virgin Polyethylene pellets. Here a screening machine is used to create the right size, distribution and flow rate needed in the rotational molding process. Further they can be used to create powder from regrind of recycled parts to be reused in the rotomolding process.
The general recycling is the oldest form of recycling. In the plastic industry it started pretty late compared to the much longer existing scrap metal and paper and card board collectors and recyclers. Also the achieved recycling rate at around 25% is much lower than in the 2 longer existing areas. This on the other hand makes the field very interesting as there's a lot of growth potential especially with raising oil prices. One thing which makes plastic recycling more and more difficult is the vast amount of different plastics and their blend with at least the same amount of possible additives and fillers.
This industry is traditionally divided into to two groups: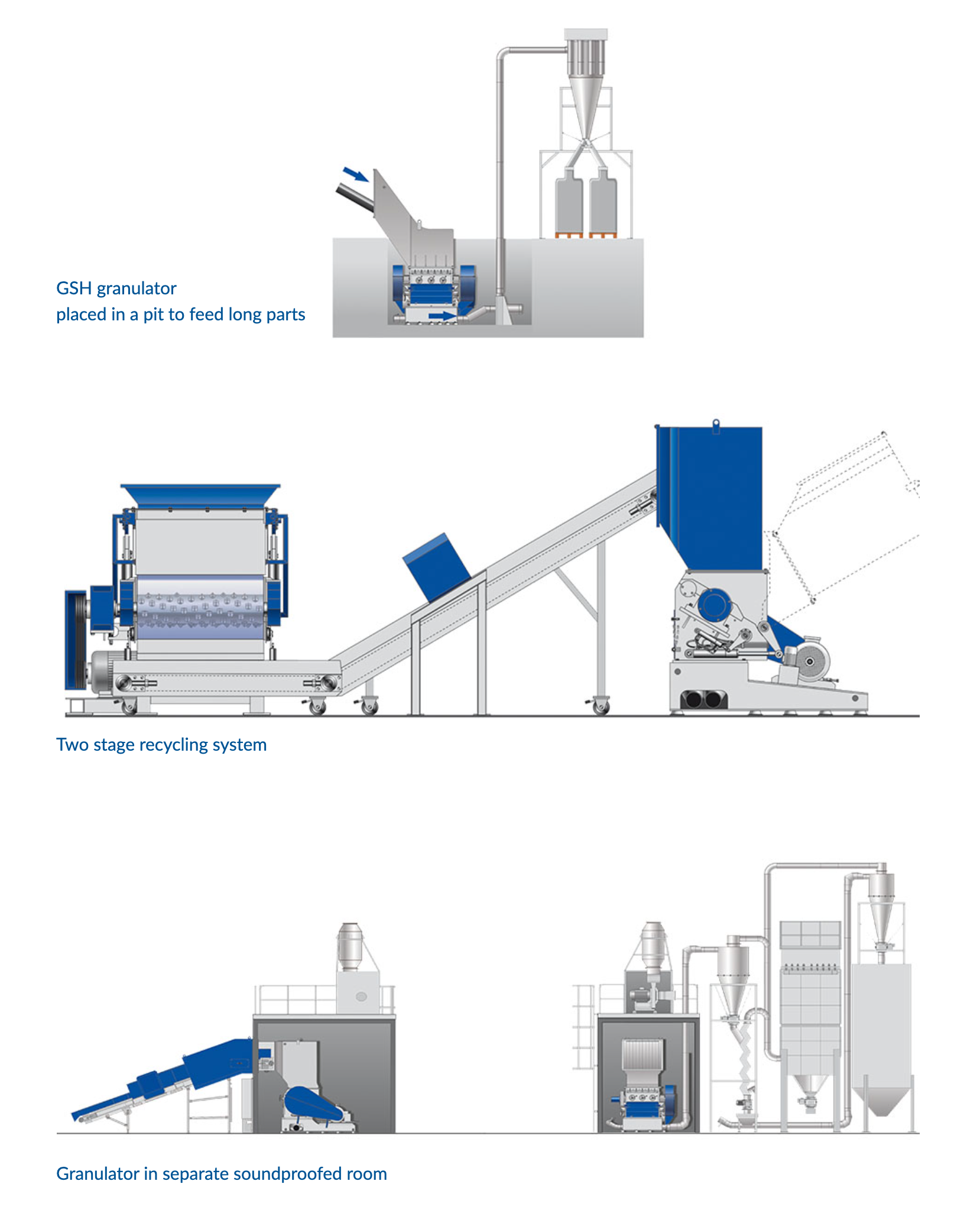 Common products to be processed in both fields are usually rejected parts, runners, lumps and purgings. The input materials can be very different in their physical properties as well as in their dimension and shapes. This makes it very important to choose the right machine for each application not just to match the required through puts but also to be able to handle the parts given.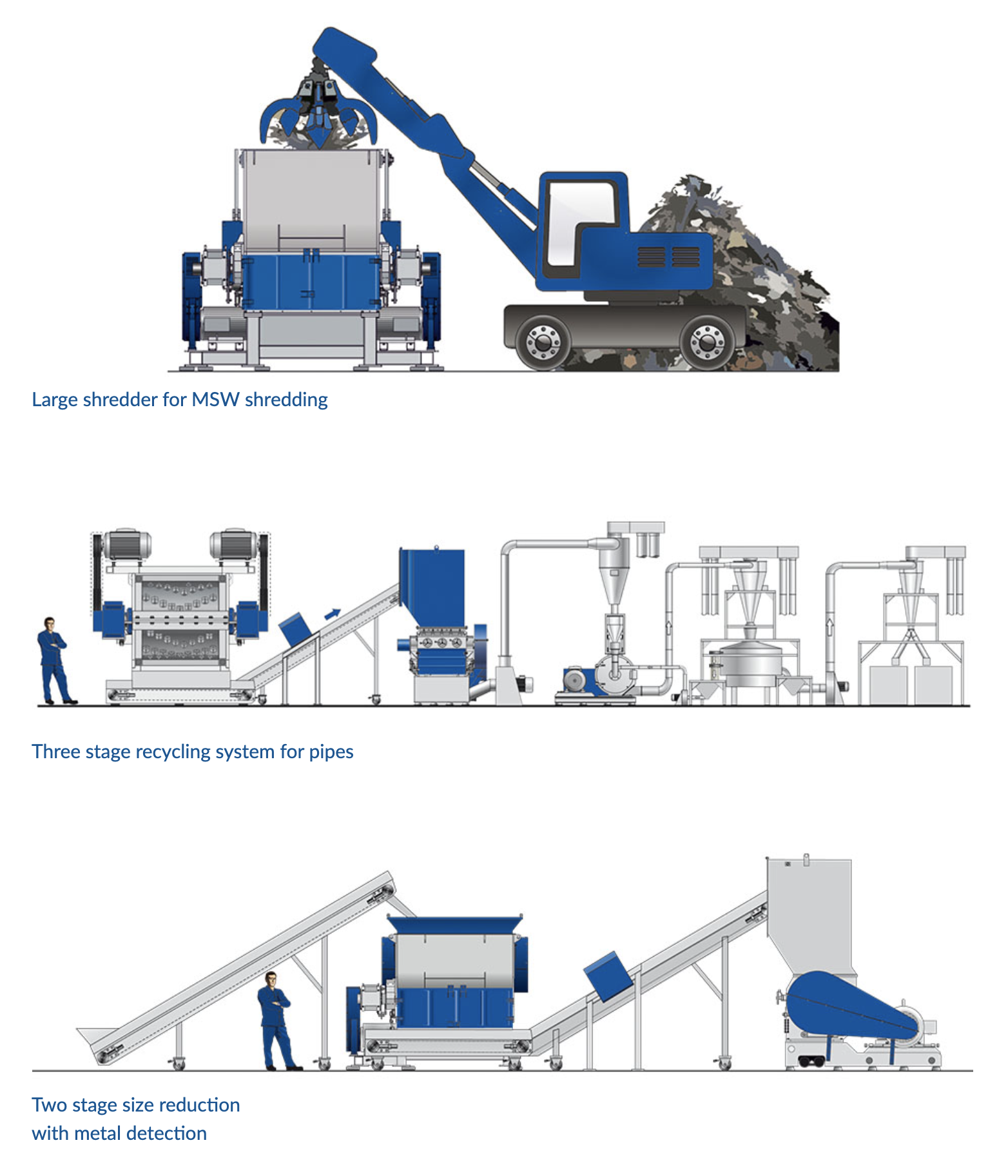 As the latest way of recycling the post consumer recycling is also one of the fastest growing markets, caused by shortage of resources and soaring energy costs.
On one side new products are made from daily waste we produce, best example here the recycling of PET bottles into yarns and fibres for the textile industry and on the other side refused products with good caloric values are turned into fuels for boilers, cement kilns, power plants and so on.
In the case of turning waste into new raw materials the plastic stream is usually pre-sorted by either the consumer himself, through waste sorting plants or through independent waste collectors as it is often the case in developing countries. As the the source of such materials is usually spread all over a country there are normally lots of small and medium sized collection centres to guide the waste stream into the final processing facilities. To reduce transport cost it arrives there mostly baled or sometimes pre-shred. Only then it is when the final, mostly manual, sorting is done; different kinds and grades of materials, different colours etc. From this point onwards the recycling is then more or less automated and big varieties of input materials as the already mentioned PET-bottles, PE-films and bottles, PVC window frames, PP from toys and household ware, ABS computer and TV housings and lots of more, are turned into re-usable granules, powders, flakes and compounds. Depending on the grade of purity they are turned then into high valuable products like new bottles, yarns or less valuable things like flower pots and garbage bags.
When waste is turned into energy then it is usually not only the plastic fraction but all other things with caloric value as well, wood, biomass, tires etc. In this case the purpose of shredding the input material is to get a homogeneous mix, which is easier to handle, to store and to feed into the next step. For this kind of operation it is necessary that shredding is as efficient as possible so that the energy balance is right and the operation is economical. Because of that a shredder should always run on the biggest screen possible to get maximum output at rated current.
The biggest problem in such an energetic recycling is the high level of contaminants as the boilers usually don't care about mineral and metallic particle. But for the lifetime of the cutting tools and the wear and tear of the shredder itself a clean as possible input material is necessary.
For both cases Zerma is able to provide just the right equipment to make your operation as profitable as possible. Our shredders are tough built and with a large range of machines and drive options we can achieve output capacities just as you require. And if you wish all in wear resistant executions.
Get Started Today!
ZERMA is ready to provide you with a customised solution for any task for the shredding, granulating or pulverising of any plastic.